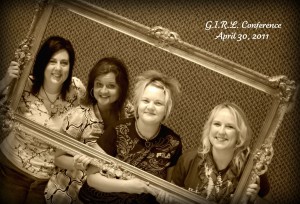 February 2006
It was during a Monday morning, mom's Bible Study that Jennifer, Ketra, Melissa and Misty were led by God to share their story.  All four women were close friends, yet did not know they had shared the same past of teen pregnancies ending in abortion.  Little did these four friends know that God was calling them to start a 501(c)3, non-profit ministry.
At first, they thought they were supposed to give testimony at their home church and start working directly with local Youth Departments.  However, it was during a road trip to Austin that The Lord revealed His plan for these four friends.
After a long visit with Lori DeVillez, Austin Pregnancy Resource Center's Executive Director, they stopped for dinner at PF Chang before heading back home.  During that time, they discussed all that they had learned during their visit with Lori and shared what was on their hearts.  All four friends believed God was calling them to start a Crisis Pregnancy Center.  They didn't have a clue where to start or how to do it, but they knew in their hearts they needed to do what God was calling them to do. That evening during dinner, a handwritten commitment was signed and dated (February 3, 2006) to move forward in starting what is now known as Still Waters.
June 2006
Still Waters became a 501(c)3, non-profit organization.
May 2007
Board of Directors hired their first staff member (Executive Director).
February 2008
Still Waters opened.  We were a one-office center that resided inside the Kaufman Christian Help Center (KCHC) on the downtown square of Kaufman, Texas.
October 2008
The KCHC moved into a new building and we were asked to join them at their new location.  We graciously accepted and leased one office from them at their new location at 400 Terrell Highway in Kaufman, Texas.
Currently
We continue to office inside The Center (aka. KCHC), but now have 6 offices and a waiting room.
Still Waters is a multi-faceted ministry that not only serves during times of crisis, but also in prevention and healing.  We currently have 6 staff members and >30 active volunteers who help us do the work that God has called us to do.
To God be the glory, great things He has done!
To hear our Co-founder's story of forgiveness, click here!