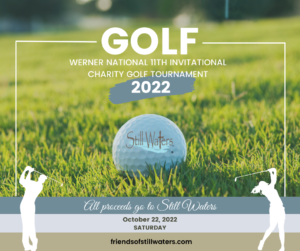 Werner National 11th Annual Invitational Charity Golf Tournament
October 22, 2022

Thank you to every golfer and sponsor who participated in this year's golf tournament.  We loved seeing everyone.  Thank you to those who traveled from out of state.  WOW!!  We continue to stand in awe of your incredible support.  It's an absolute blessing to partner with each and every one of you.

A special shout out of appreciation to Werner National, Mike, Kim, Kristi and Shelina.  We love you all and appreciate ALL that you did, have done and continue to do for Still Waters.  You are a gift from God.  May God continue to bless you and your investment in God's Kingdom!