2019 FUNDRAISER – North Texas Giving Day (NTGD)
Thank you Givers of HOPE!  We couldn't do what we do without your partnership. Thank you for supporting Still Waters on North Texas Giving Day!
A special thank you goes to our amazing and generous, anonymous matching donor. Thank you, thank you, thank you for your incredible support of Still Waters!!! May God continue to bless you and yours.
Together, we are making a difference in this world… one life at a time!
God bless the friends of Still Waters! ❤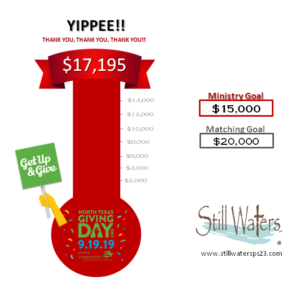 Listen to Still Waters' recording at 94.9 KLTY Radio:  Promotional Video